A study by PwC and Hypebeast estimate that streetwear represents approximately 10% of the entire global apparel and accessories market. Not only did the movement see sneakers and hoodies move the market in the same way as it-bags did, but it also initiated a process of "democratization" of fashion, profoundly changing the dynamics of brands, from product design to the release times of the collections. But what is streetwear? And where does it come from?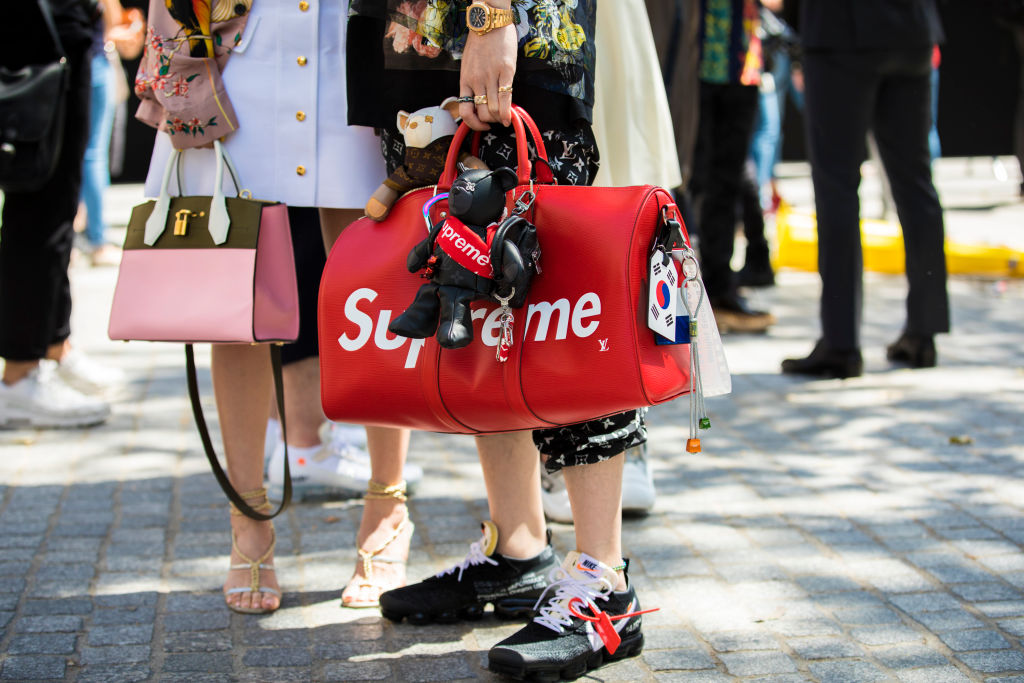 The history of streetwear
What is streetwear
The Garzanti dictionary defines it as "informal and youthful clothing style, typical of boys who practice rap, skate or breakdance (e.g. wide and thin trousers, caps, puffy jackets)".
Leggi Anche
> Ten years of fashion
When and how it was born
From the 1970s, designers' fashion is no longer the only possible fashion. Youth subcultures - from glam rock to hippie, to the most imitated punk - they set their dress codes without regard to the suggestions of haute couture and ready-to-wear, but rather take an example from the environment in which they live. The most emblematic example is punk, violent and free from any convention, which turns into broken, torn, deliberately worn clothes.
Streetwear is a further evolution of this concept. It was born in California among the communities of surfers and skateboarders who prefer loose and comfortable clothes combined with sneakers and cranks in late 1970s New York thanks to a newborn musical movement, hip-hop. Run DMC defines it First: Acetate tracksuits with side stripes, plain T-shirt, felt hats, gold chains with large pendants, trainers. Exactly the clothes that the inhabitants of the Bronx wore.
Meanwhile, in 1984, Michael Jordan, even before becoming the star of the Chicago Bulls, signs a contract with Nike for the creation of his own line of sneakers destined to become the most recognized worldwide: the Air Jordan.
The two founding fathers: Shawn Stussy and James Jebbia
"I dressed Stüssy from head to toe every day when I was a teenager. It was something I was really, really obsessed with," said Dior Men creative director Kim Jones in an interview announcing the collaboration between the Parisian maison and the brand that first made streetwear a well-known style. Born in 1954, Shawn Stussy began his journey in the early 1980s in Laguna Beach, California, making surfboards and T-shirts with his last name printed on them.
In 1984, the logo was born, still so recognizable and freely inspired by that of Chanel. In 1991, Stussy opened his first store in New York with James Jebbia, born in 1963 and future founder of Supreme. It begins to expand in Europe thanks to the support of another protagonist of this world, Luca Benini, founder of the Slam Jam store. Before leaving his brand, the entrepreneur starts with a fundamental characteristic of streetwear, cross-brand collaboration, along with Carhartt, a symbol of American workwear.
In 1994,
Jebbia opened the first Supreme store
on Lafayette Street, also in New York. It is specially designed for skateboarders, with products on the side walls and a large space in the middle to turn freely with the board.

In the 2000s, Supreme opens in Los Angeles, London, Tokyo, Nagoya, Osaka and Fukoka. It sells clothing, accessories and minimalist objects, characterized by its logo with a red background and based on a precise concept: the scarcity of the product. In fact, the collection is not widespread with seasonal rhythms, which are widely used by fashion brands, but it is released weekly in small "drops". The appointment was always on Thursdays at 11 a.m. New York time. The success of the brand is therefore based on hype, the exclusivity of obtaining an expensive (but above all rare) object by making long queues in front of the store or online. There are also many collaborations that have marked its history over the years: from the big names in art and music, such as those of Damien Hirst and Neil Young, to the most diverse brands, including Nike, Vans, The North Face, Playboy, Levi's, Timberland, Stone Island and Louis Vuitton.

An important market: Japan
Between the late 80's and early 90's Hiroshi Fujiwara, DJ and American streetwear enthusiast, is the first Japanese to join the famous International Stüssy Tribe and founded the brand GOOD ENOUGH. That is why the first Western influences came to Japan, from which the movement was born Urahara, namesake of a neighborhood where punk and hip-hop in particular have taken off. Another big one the protagonist of the scene is Tomoaki Nagao, better known as Nigo, former assistant to Fujiwara and founder of the A Bathing Ape (BAPE) brand. Still in 1993, Fujiwara and NIGO opened the famous NOWHERE store. In 2001, Fujiwara's personality will be inaugurated by a collaboration that is still loved today, the one with Nike. Today he has the project under his belt De Pool Aoyama, a shop located in the pool areas of a private building in Tokyo.

Raf's genius
Best known for his work as chief designer of Jil Sander, Dior and Calvin Klein (and most recently as co-creative director of Prada), Raf Simons launched his eponymous and masculine line in 1995: this is one of the first experiments between streetwear and tailoring. And maybe one of the best.



Inside the culture of punk music, the notions of industrial design, L 'youth universe and underground and twentieth century art. A niche project that persists over time and has never stopped influencing other designers.

Leggi Anche
> Everything you need to know about Raf Simons
Virgil Abloh's Revolution
There is indeed a date, a certain event, that marks the takeover of fashion by streetwear and is that of the collaboration between Louis Vuitton and Supreme, in 2017: on the morning of the launch, 7500 people lined up in Tokyo, 2000 in London and 1500 in Sydney queuing to buy the products in the collection.

Some products of the collaboration between Supreme and Louis Vuitton

Shortly thereafter, in 2018, Virgil Abloh assumes the role of creative director of the Vuitton menswear line, cementing the success of a new culture that blends street fashion and luxury. Abloh has a long creative partnership with rapper Kanye West, with whom he made the brands Pyrex and Yeezy very famous. All this before 2013, the year he founded his own Off White, with production and headquarters in Milan and now part of the Ngg-New Guards Group, in turn owned by Farfetch.


"I take that label, streetwear, and wear it as a badge. I dismiss it as a common term. It's like trying to define what this word means on high fashion. My goal is to do both ». It is in these words that the work of Virgil Abloh is summed up: not a stylist in the classic sense of the word, but a creative director able to communicate as much as possible the culture of the youngest with the world of luxury.

Virgil Abloh

And that of Demna Gvasalia
Parallel to the success of Off-White that grows from Vêtements, brand phenomenon born from an idea of Demna Gvasalia and his collective that debuted in Paris during the autumn / winter season 2014/2015. Punk is thus seen through the eyes of a follower of Martin Margiela, and mixed with the contemporary needs of product-oriented and immediate consumption trends. The success of the brand is so great that in 2017 Balenciaga wants Gvasalia as creative director.


The ranking of the most streetwear brands according to Hypebeast
supreme
Nike
Off-white
adidas
BAPE
Stussy
Palace
Carhartt WP
Vetements
The Balenciaga Spring / Summer 2018 collection
---